Post by Apache on Jul 8, 2012 16:53:44 GMT -6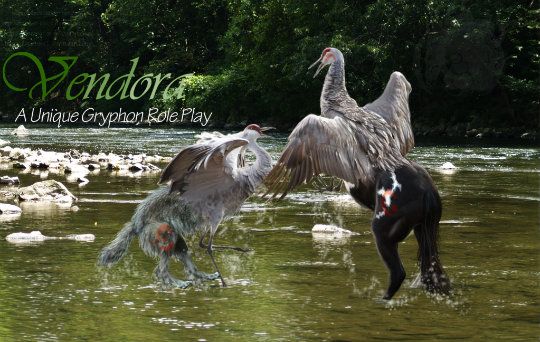 After the Great War Vendora has been a land of peace for over 1000 years, after so long the kingdom has become complacent. Now a group of Rogues has begun stirring up trouble, at first the Rogues were unorganized. Striking the outer villages at random , but now a leader has risen among them and the group has become a serious threat. But any attempts to stop them never get very far, it is as if they have someone within the government alerting them to possible ambushes or raids into their territory.
As the Vendora armies attempt to solve the Rogue problem rumors of another Gryphon civilization on the other side of Snowy Peaks are beginning to reach the ears of the Elders, their intentions, unknown.
~Welcome~
Hello and welcome to Vendora a unique Gryphon role play that not only focuses on literature and all things role play, but art as well. Here at Vendora artists and writers alike are welcomed and included in our plots, missions are given for both artists and writers that advance our plot line even farther. What kind of art is allowed you may ask, ANY form of art is welcome at Vendora, Digital, Traditional, Photmanipulation, photography, mixed media, even things made out of food! If you can create it and submit it to Deviantart and it follows our group rules as well as DA's you can submit it to our group!
Forms of Role Play
We offer several forms of role play to fit everyone, your are welcome to role play through notes or post on our website, once we have a chat box on DA role playing on it will also be allowed, if neither of these are your style we are debating whether to create blogs specifically for role playing purposes. Feel free to send the group a note or message Apache on the website, your thoughts and opinions are always welcomed and encouraged. We want this group/website to be fun and we can't do that if we don't know how we can improve your experience.
We are a new website and DA group still in its early stages, and many high ranking positions are opened just waiting to be earned. Or admin is very friendly and helpful, she is willing to answer any questions you may have or hop on livestream to help you navigate through the usually website and DA stuff visually, such as submitting art, or creating a new thread.
~What Is Allowed~
Gryphons, Gryphons, GRYHPONS! Anything to do with gryphons and the role play are accepted here, if the work has excessive violence or gore there has to be a mature warning, we want to keep our group family friendly.
Any kind of media is allowed, digital art, tradition, literature, photo manipulations, etc. If you can submit it onto DA then you can put it here.
We don't expect you to submit all the time, life is busy and sometimes people are drawn away from the computer. We simply ask that you be as active as you can be, participate in activities, share your ideas and opinions, be friendly and helpful, and all that good stuff. Being active and helpful will earn you Gold Coins which you can use to buy items and other cool stuff!
ANY animal can be used to create you gryphon! As long as it is mixed with a bird you can use it, predators, prey animals they are all fair game! To gain extinct animals you'll have to win a contest, mission, or purchase it in the store. (For info coming soon)
~Other Playable Creatures~
Certain events and contests will allow members to unlocked other species they can play. These times will not be every single contest or site event, the privilege of Role Playing to other species will be a prize either earned through these events or contests or given to a member that the staff all feel have earned it.
Website
/
Rules
/
Link Back
Deviantart Group
[/color]